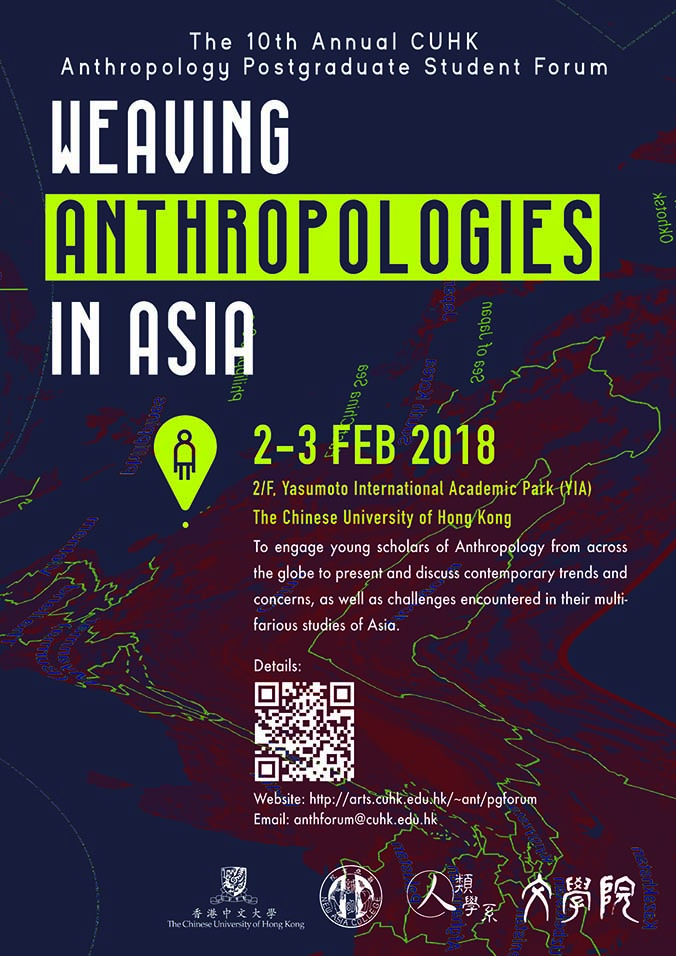 Weaving Anthropologies in Asia
The 10th Annual CUHK Anthropology Postgraduate Student Forum aims to bring together graduate students of Anthropology from across the globe to discuss and share their experiences and research in the social sciences. This forum also provides a platform for young scholars, researchers, and educators to present and discuss contemporary trends and concerns, as well as challenges encountered in their multifarious studies of Asia. The nine consecutive conferences from 2008-09 were held on the campus of The Chinese University of Hong Kong, which has overseen a tremendous exchange of ideas and research results within the discipline of Anthropology. This year's forum, Weaving Anthropologies in Asia, invites a series of presentations and activities focused on Asia. It contrasts previous forums in extending its outlook to a greater Asia - conceived to include both South and Central Asia - and its complex and challenging present. Sponsored by the Department of Anthropology, this event will be held 2nd -3rd February 2018 at The Chinese University of Hong Kong.
We welcome researches from all fields related to Asian anthropology to be submitted and shared. In order to further promote anthropological research from young scholars, the best papers presented in the conference will be invited to publish their works on the journal of Asian Anthropology.
Please find more information about submission and previous conferences in other sections of this site.
Deadline Extended: 15th October 2017