近期舉行講座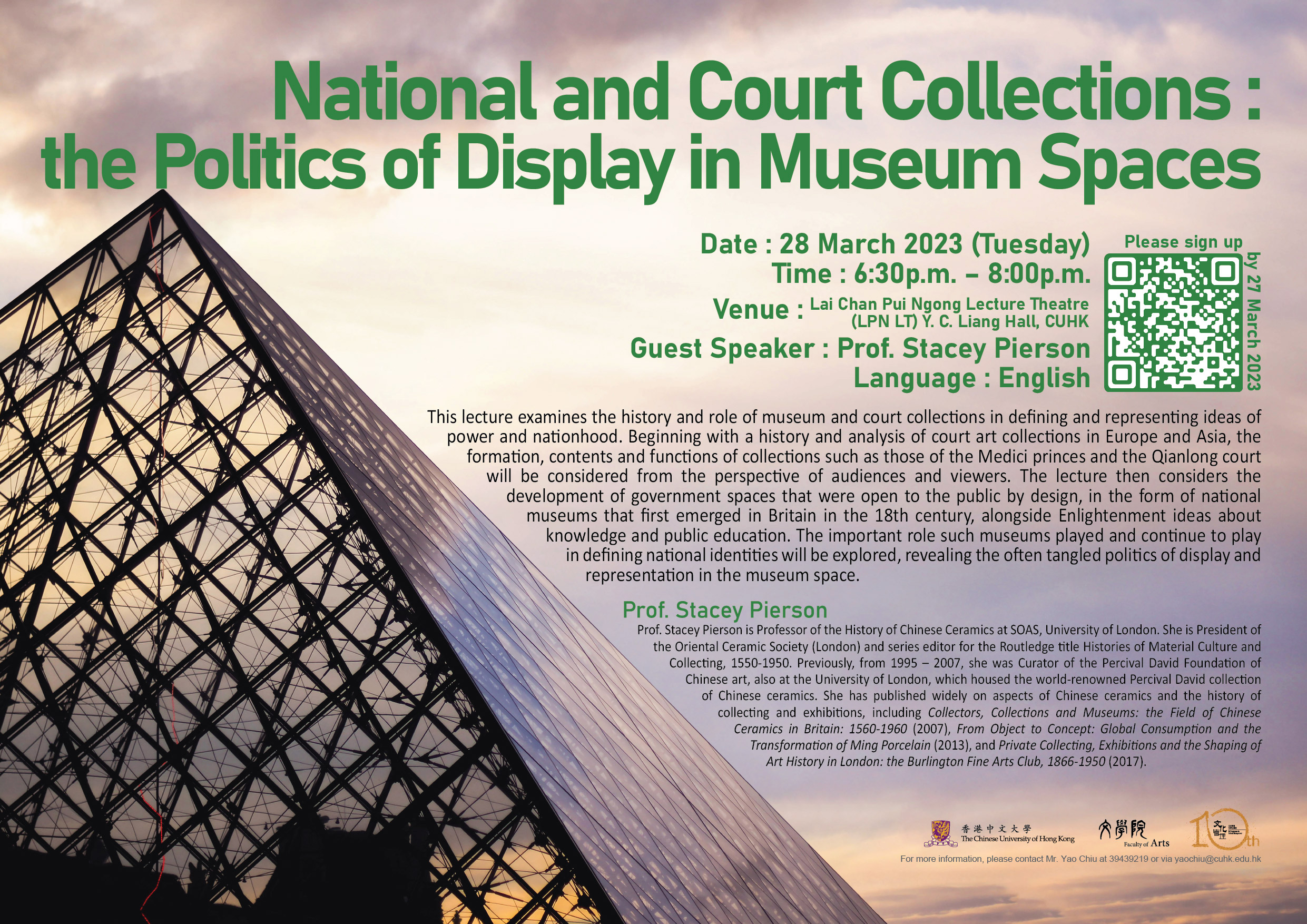 National and Court Collections: the Politics of Display in Museum Spaces
In late March, we highly appreciated to have Prof. Stacey Pierson, Professor of the History of Chinese Ceramics at SOAS, University of London, to visit CUHK and provide us a public lecture. All are welcome to attend this fruitful academic exchange activity.
The public lecture will be held on 28 Mar (Tue). Please find the details below:
Date: 28th Mar 2023 (Tue)
Time: 6:30pm – 8:30pm
Venue: Lai Chan Pui Ngong Lecture Theatre (LPN LT), Y. C. Liang Hall, CUHK
(MAP: https://goo.gl/maps/HuVHAnp5SJ3x4FNu6 )
(Please take the free CUHK Shuttle Bus no.1A or 1B at the University Station, Exit A, to "Sir Run Run Shaw Hall" bus stop. Shuttle Bus information could be found here: https://transport.cuhk.edu.hk/route/1a/ )
Language: English
For those interested, please register via the following link by 27 Mar 2023 (Mon):
https://cloud.itsc.cuhk.edu.hk/mycuform/view.php?id=1799180 
About the Lecture:
This lecture examines the history and role of museum and court collections in defining and representing ideas of power and nationhood. Beginning with a history and analysis of court art collections in Europe and Asia, the formation, contents and functions of collections such as those of the Medici princes and the Qianlong court will be considered from the perspective of audiences and viewers. The lecture then considers the development of government spaces that were open to the public by design, in the form of national museums that first emerged in Britain in the 18th century, alongside Enlightenment ideas about knowledge and public education. The important role such museums played and continue to play in defining national identities will be explored, revealing the often tangled politics of display and representation in the museum space.
About the Speaker:
Prof. Stacey Pierson is Professor of the History of Chinese Ceramics at SOAS, University of London. In addition to teaching and supervising research students in the School of Arts, she is President of the Oriental Ceramic Society (London) and series editor for the Routledge title Histories of Material Culture and Collecting, 1550-1950. Previously, from 1995 – 2007, she was Curator of the Percival David Foundation of Chinese art, also at the University of London, which housed the world-renowned Percival David collection of Chinese ceramics. She has published widely on aspects of Chinese ceramics and the history of collecting and exhibitions, including Collectors, Collections and Museums: the Field of Chinese Ceramics in Britain: 1560-1960 (2007), Chinese Ceramics: a Design History (2009), From Object to Concept: Global Consumption and the Transformation of Ming Porcelain (2013), Private Collecting, Exhibitions and the Shaping of Art History in London: the Burlington Fine Arts Club, 1866-1950 (2017) and the edited volume Visual, Material and Textual Cultures of Food and Drink in China, 200 BCE – 1900 CE (2022), Colloquies on Art and Archaeology in Asia, no. 25 (2022). Her most recent research project focused on Dr. Johnson's Chinese teapot, which is on display in the British Museum.