課程消息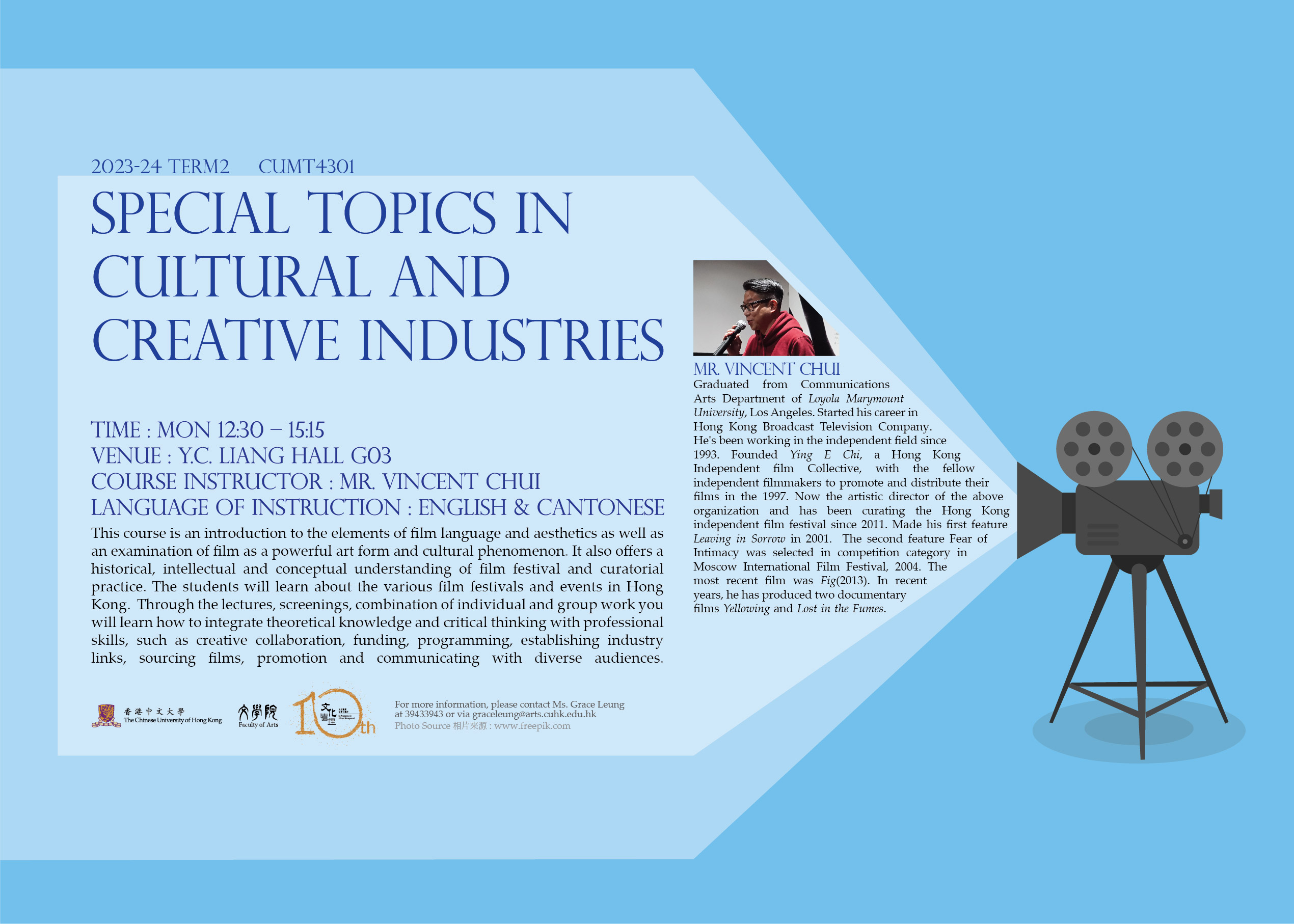 [New Course info] CUMT4301 Special Topics in Cultural and Creative Industries — 2nd term, 2023-24
This course is an introduction to the elements of film language and aesthetics as well as an examination of film as a powerful art form and cultural phenomenon. It also offers a historical, intellectual and conceptual understanding of film festival and curatorial practice. The students will learn about the various film festivals and events in Hong Kong.  Through the lectures, screenings, combination of individual and group work you will learn how to integrate theoretical knowledge and critical thinking with professional skills, such as creative collaboration, funding, programming, establishing industry links, sourcing films, promotion and communicating with diverse audiences. 
Mr. Vincent CHUI
Graduated from Communications Arts Department of Loyola Marymount University, Los Angeles. Started his career in Hong Kong Broadcast Television Company. He's been working in the independent field since 1993. Founded Ying E Chi, a Hong Kong Independent film Collective, with the fellow independent filmmakers to promote and distribute their films in the 1997. Now the artistic director of the above organization and has been curating the Hong Kong independent film festival since 2011. Made his first feature Leaving in Sorrow in 2001.  The second feature Fear of Intimacy was selected in competition category in Moscow International Film Festival, 2004. The most recent film was Fig(2013). In recent years, he has produced two documentary films Yellowing and Lost in the Fumes.
Time : Mon 12:30 – 15:15
Venue : Y.C. Liang Hall G03
Course Instructor : Mr. Vincent CHUI
Language of Instruction : English & Cantonese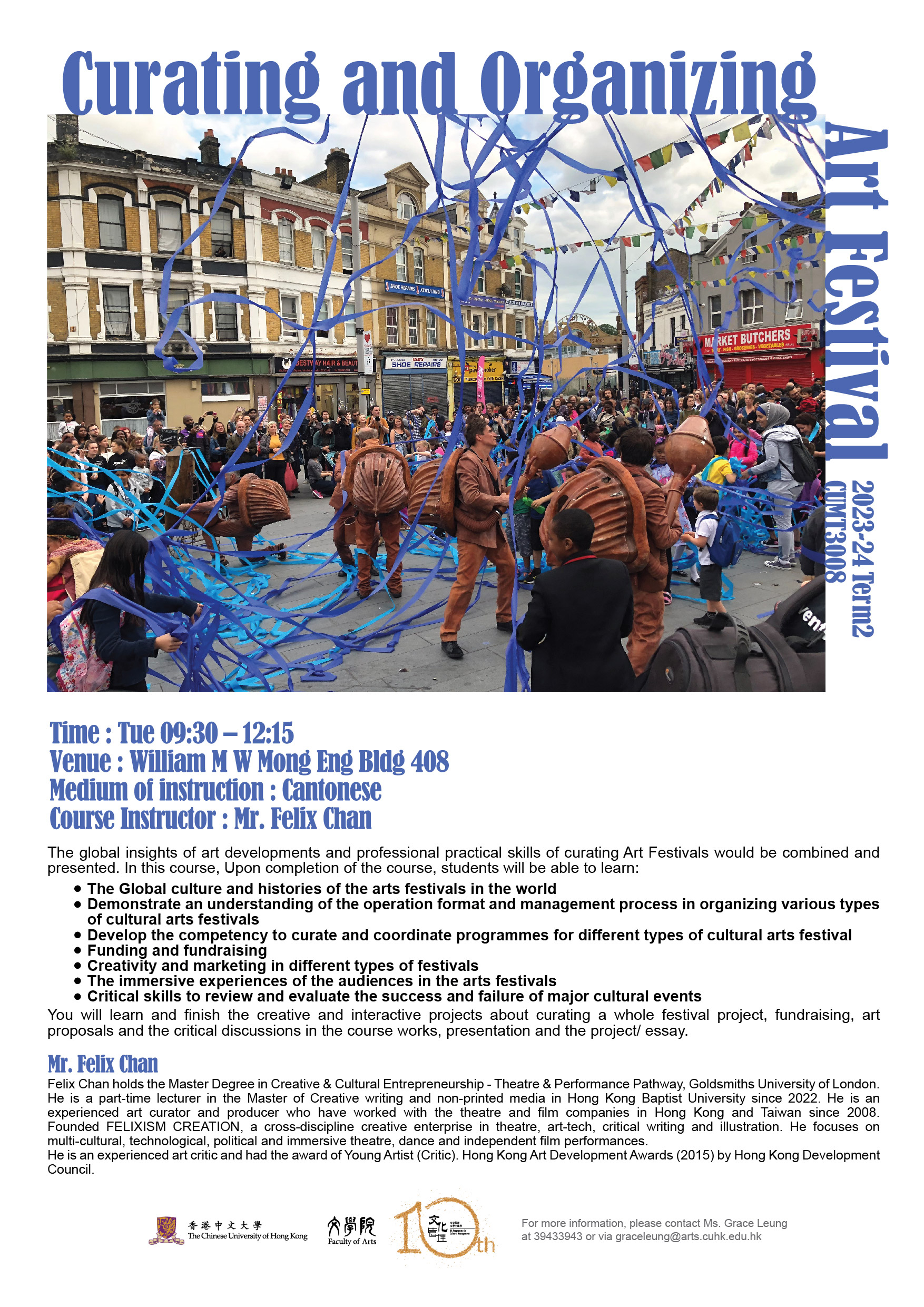 [New Course info] CUMT3008 Curating and Organizing Art Festival — 2nd term, 2023-24
The global insights of art developments and professional practical skills of curating Art Festivals would be combined and presented. In this course, Upon completion of the course, students will be able to learn:
The Global culture and histories of the arts festivals in the world
Demonstrate an understanding of the operation format and management process in organizing various types of cultural arts festivals
Develop the competency to curate and coordinate programmes for different types of cultural arts festival
Funding and fundraising
Creativity and marketing in different types of festivals
The immersive experiences of the audiences in the arts festivals
Critical skills to review and evaluate the success and failure of major cultural events
You will learn and finish the creative and interactive projects about curating a whole festival project, fundraising, art proposals and the critical discussions in the course works, presentation and the project/ essay.
Mr. Felix Chan
Felix Chan holds the Master Degree in Creative & Cultural Entrepreneurship – Theatre & Performance Pathway, Goldsmiths University of London. He is a part-time lecturer in the Master of Creative writing and non-printed media in Hong Kong Baptist University since 2022. He is an experienced art curator and producer who have worked with the theatre and film companies in Hong Kong and Taiwan since 2008. Founded FELIXISM CREATION, a cross-discipline creative enterprise in theatre, art-tech, critical writing and illustration. He focuses on multi-cultural, technological, political and immersive theatre, dance and independent film performances.
He is an experienced art critic and had the award of Young Artist (Critic). Hong Kong Art Development Awards (2015) by Hong Kong Development Council.
Time : Tue 09:30 – 12:15
Venue : William M W Mong Eng Bldg 408
Medium of instruction : Cantonese
Course Instructor : Mr. Felix Chan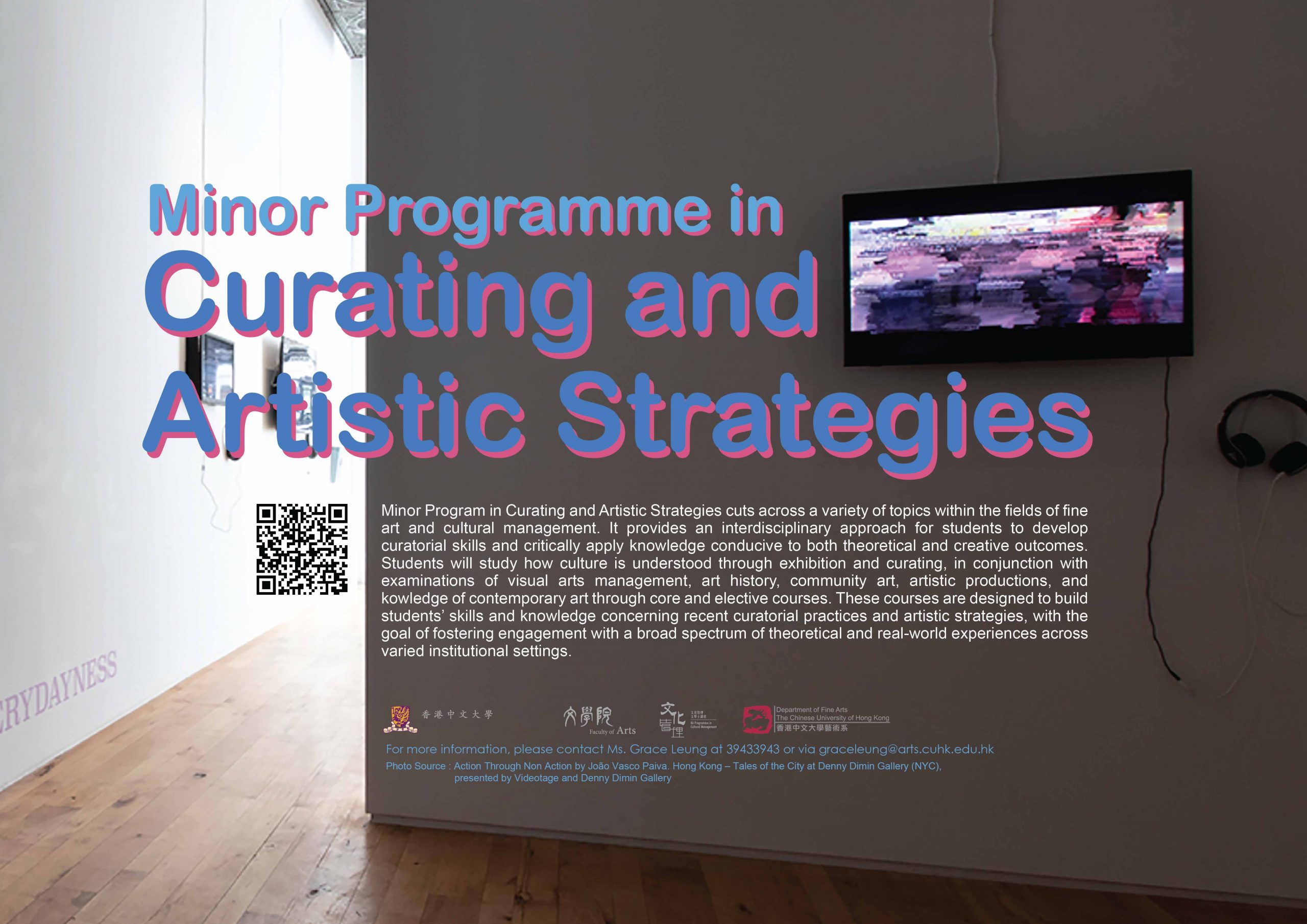 [新開辦]策展與藝術策略副修課程
We are pleased to announce that a Minor programme in Curation and Artistic Strategies would be offered starting from the academic year 2021 – 22. The programme is co-organized by the BA Programme in Cultural Management and the Department of Fine Arts. Students admitted in 2018-19 and thereafter are eligible to take this minor programme.
For more detailed information and the study scheme, you are encouraged to visit our website https://www.arts.cuhk.edu.hk/cumt/programme/minor-program/