課程消息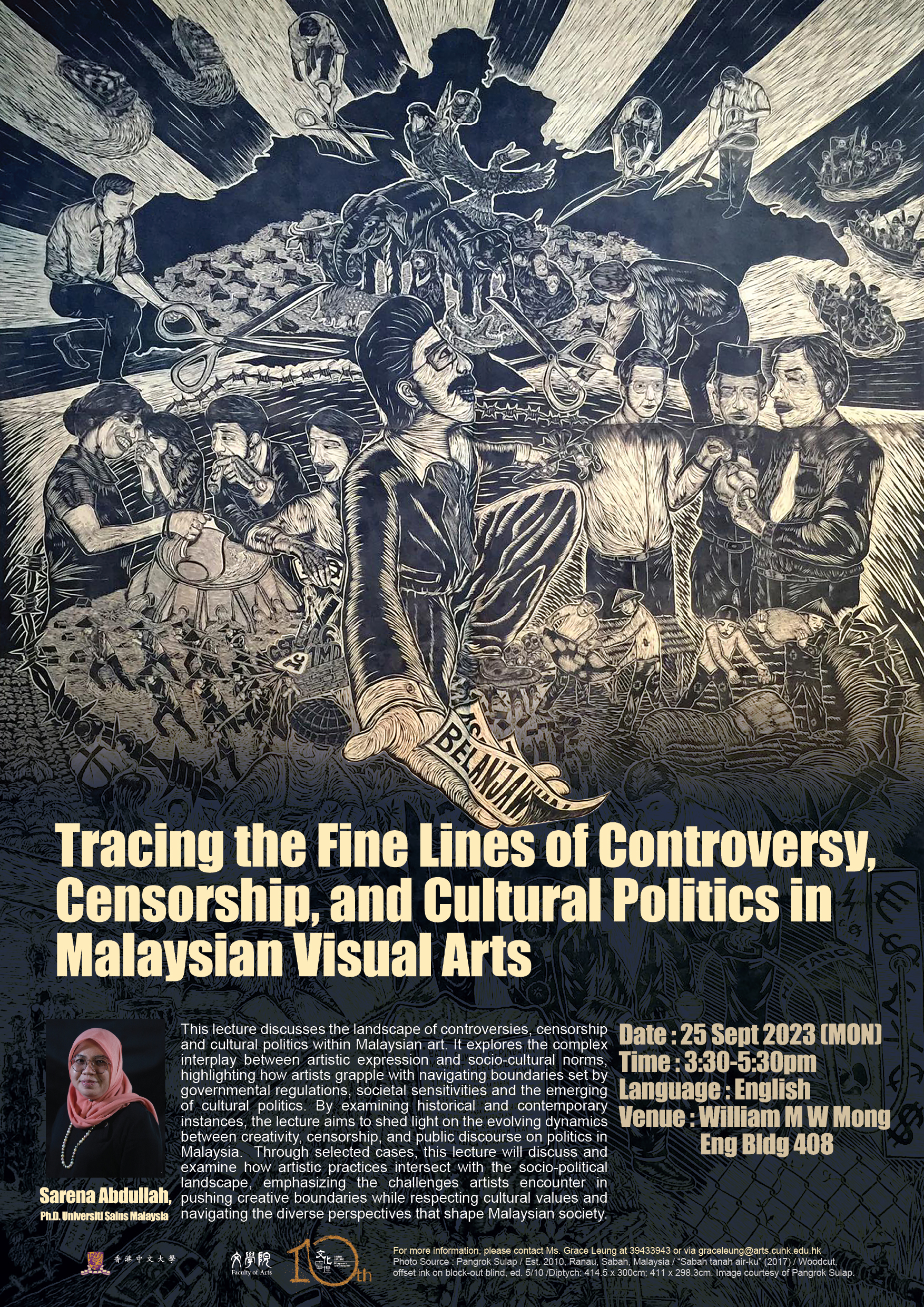 Tracing the Fine Lines of Controversy, Censorship, and Cultural Politics in Malaysian Visual Arts
This lecture discusses the landscape of controversies, censorship and cultural politics within Malaysian art. It explores the complex interplay between artistic expression and socio-cultural norms, highlighting how artists grapple with navigating boundaries set by governmental regulations, societal sensitivities and the emerging of cultural politics. By examining historical and contemporary instances, the lecture aims to shed light on the evolving dynamics between creativity, censorship, and public discourse on politics in Malaysia.  Through selected cases, this lecture will discuss and examine how artistic practices intersect with the socio-political landscape, emphasizing the challenges artists encounter in pushing creative boundaries while respecting cultural values and navigating the diverse perspectives that shape Malaysian society.
Date : 25 Sept 2023 (MON)
Time : 3:30-5:30pm
Language : English
Venue : William M W Mong Eng Bldg 408
Guest speaker : Sarena Abdullah, Ph.D. Universiti Sains Malaysia
日期:2023年9月25日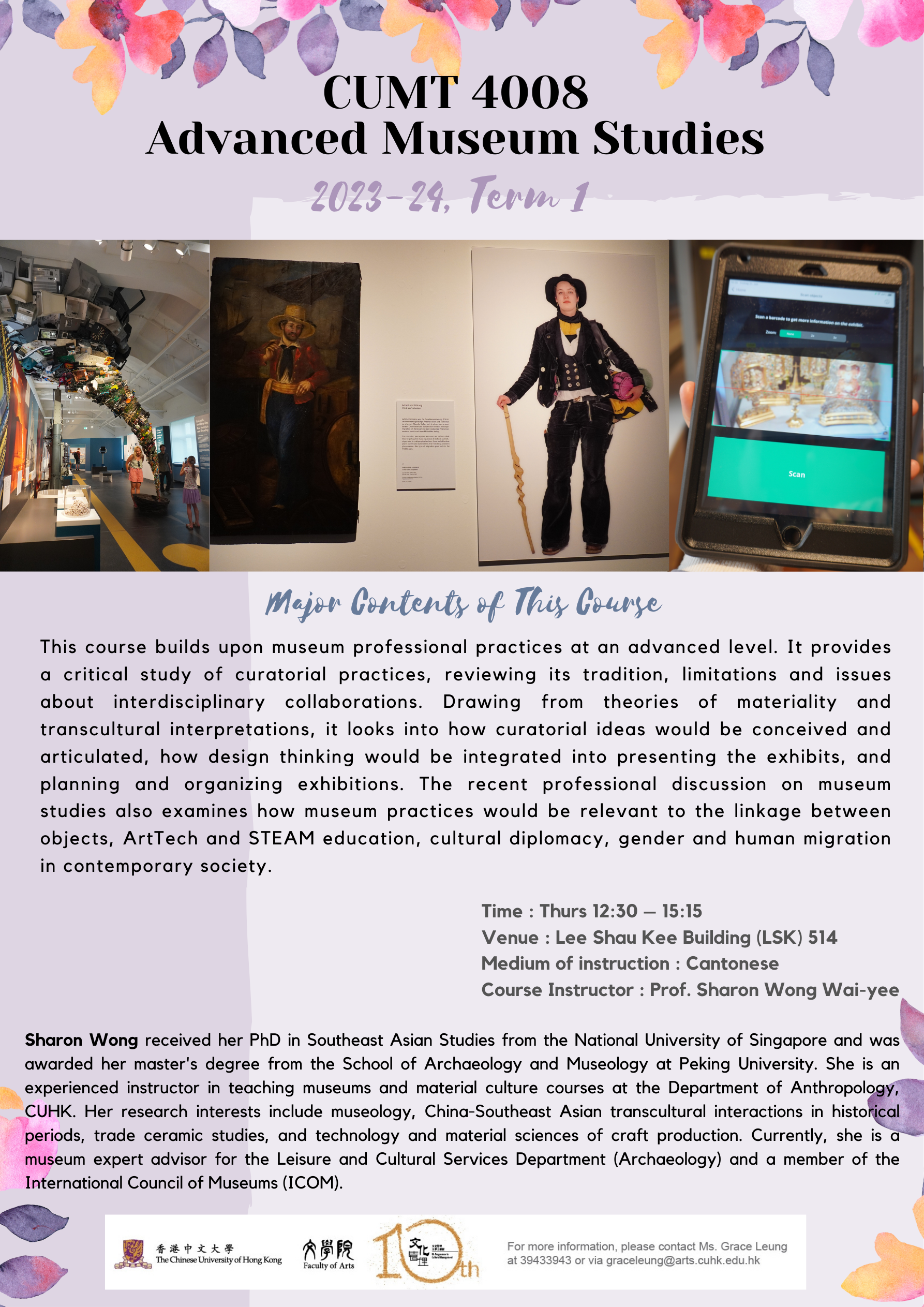 [New Course info] CUMT4008 Advanced Museum Studies — 1st term, 2023-24
This course builds upon museum professional practices at an advanced level. It provides a critical study of curatorial practices, reviewing its tradition, limitations and issues about interdisciplinary collaborations. Drawing from theories of materiality and transcultural interpretations, it looks into how curatorial ideas would be conceived and articulated, how design thinking would be integrated into presenting the exhibits, and planning and organizing exhibitions. The recent professional discussion on museum studies also examines how museum practices would be relevant to the linkage between objects, ArtTech and STEAM education, cultural diplomacy, gender and human migration in contemporary society.
The field trip will be arranged to allow students to observe and evaluate museum practices critically. Upon completion of the course, students will be able to learn:
Develop an overall understanding of museum practices;
Apply research skills and creative thinking in conceiving curatorial ideas;
Engage with arts, sciences and transcultural issues through the means of exhibition-making;
Critically evaluate museum curatorial practices and ethics.
Prof. Sharon Wong Wai-yee
Sharon Wong received her PhD in Southeast Asian Studies from the National University of Singapore and was awarded her master's degree from the School of Archaeology and Museology at Peking University. She is an experienced instructor in teaching museums, material culture and heritage courses at the Department of Anthropology, The Chinese University of Hong Kong. Her research interests include museology, cultural heritage studies, archaeology, China-Southeast Asian transcultural interactions in historical periods, trade ceramic studies, and technology and material sciences of craft production. She undertakes her fieldwork in Southeast Asia, China and Europe. She is currently working on the research exhibition project of port city networking along maritime ceramic roads in Asia. She was a member of the Antiquities Advisory Board. Currently, she is a museum expert advisor for the Leisure and Cultural Services Department (Archaeology) and a member of the International Council of Museums (ICOM).
Time : Thurs 12:30 – 15:15
Venue : Lee Shau Kee Building (LSK) 514
Medium of instruction : Cantonese
Course Instructor : Prof. Sharon Wong Wai-yee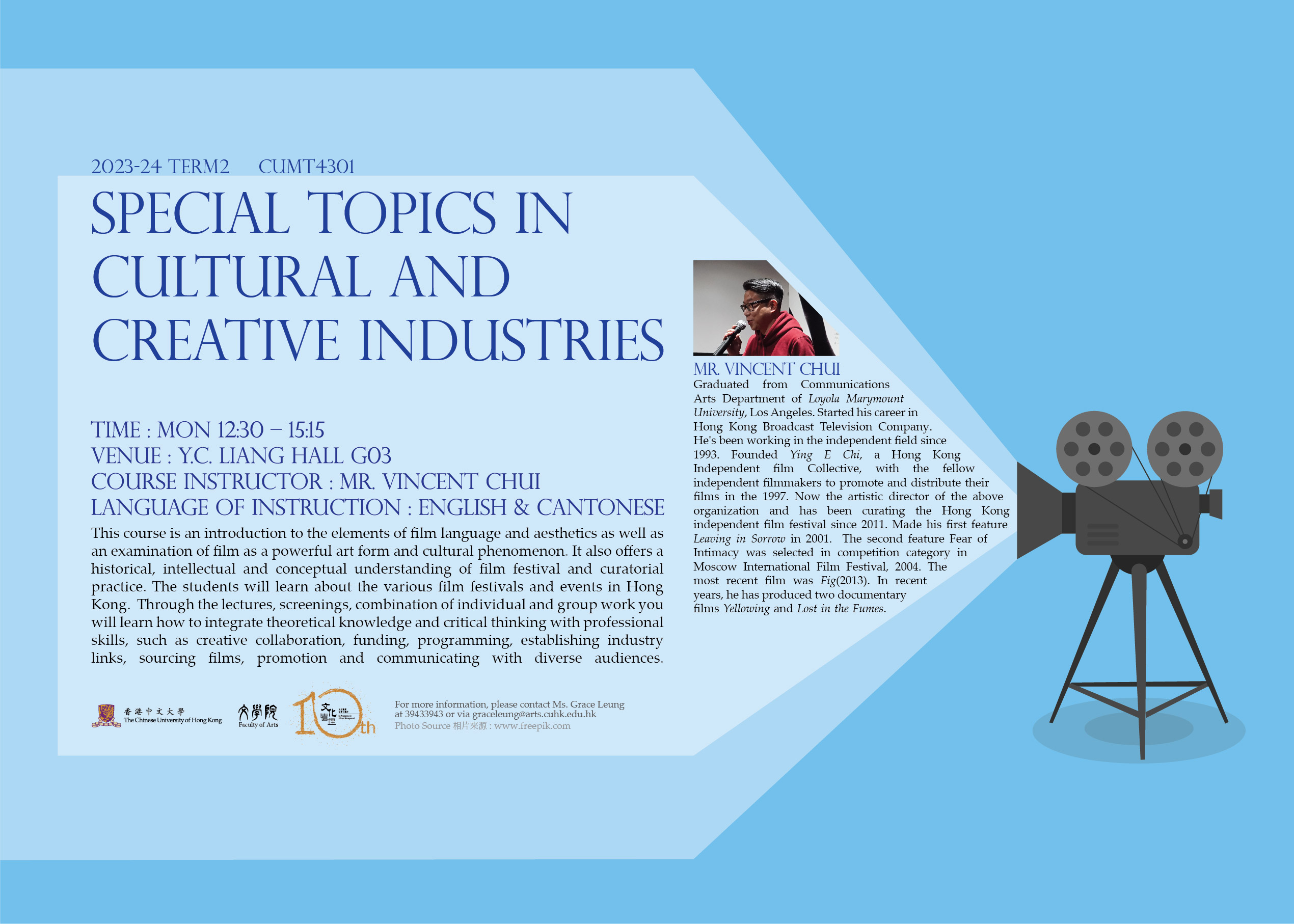 [New Course info] CUMT4301 Special Topics in Cultural and Creative Industries — 2nd term, 2023-24
This course is an introduction to the elements of film language and aesthetics as well as an examination of film as a powerful art form and cultural phenomenon. It also offers a historical, intellectual and conceptual understanding of film festival and curatorial practice. The students will learn about the various film festivals and events in Hong Kong.  Through the lectures, screenings, combination of individual and group work you will learn how to integrate theoretical knowledge and critical thinking with professional skills, such as creative collaboration, funding, programming, establishing industry links, sourcing films, promotion and communicating with diverse audiences. 
Mr. Vincent CHUI
Graduated from Communications Arts Department of Loyola Marymount University, Los Angeles. Started his career in Hong Kong Broadcast Television Company. He's been working in the independent field since 1993. Founded Ying E Chi, a Hong Kong Independent film Collective, with the fellow independent filmmakers to promote and distribute their films in the 1997. Now the artistic director of the above organization and has been curating the Hong Kong independent film festival since 2011. Made his first feature Leaving in Sorrow in 2001.  The second feature Fear of Intimacy was selected in competition category in Moscow International Film Festival, 2004. The most recent film was Fig(2013). In recent years, he has produced two documentary films Yellowing and Lost in the Fumes.
Time : Mon 12:30 – 15:15
Venue : Y.C. Liang Hall G03
Course Instructor : Mr. Vincent CHUI
Language of Instruction : English & Cantonese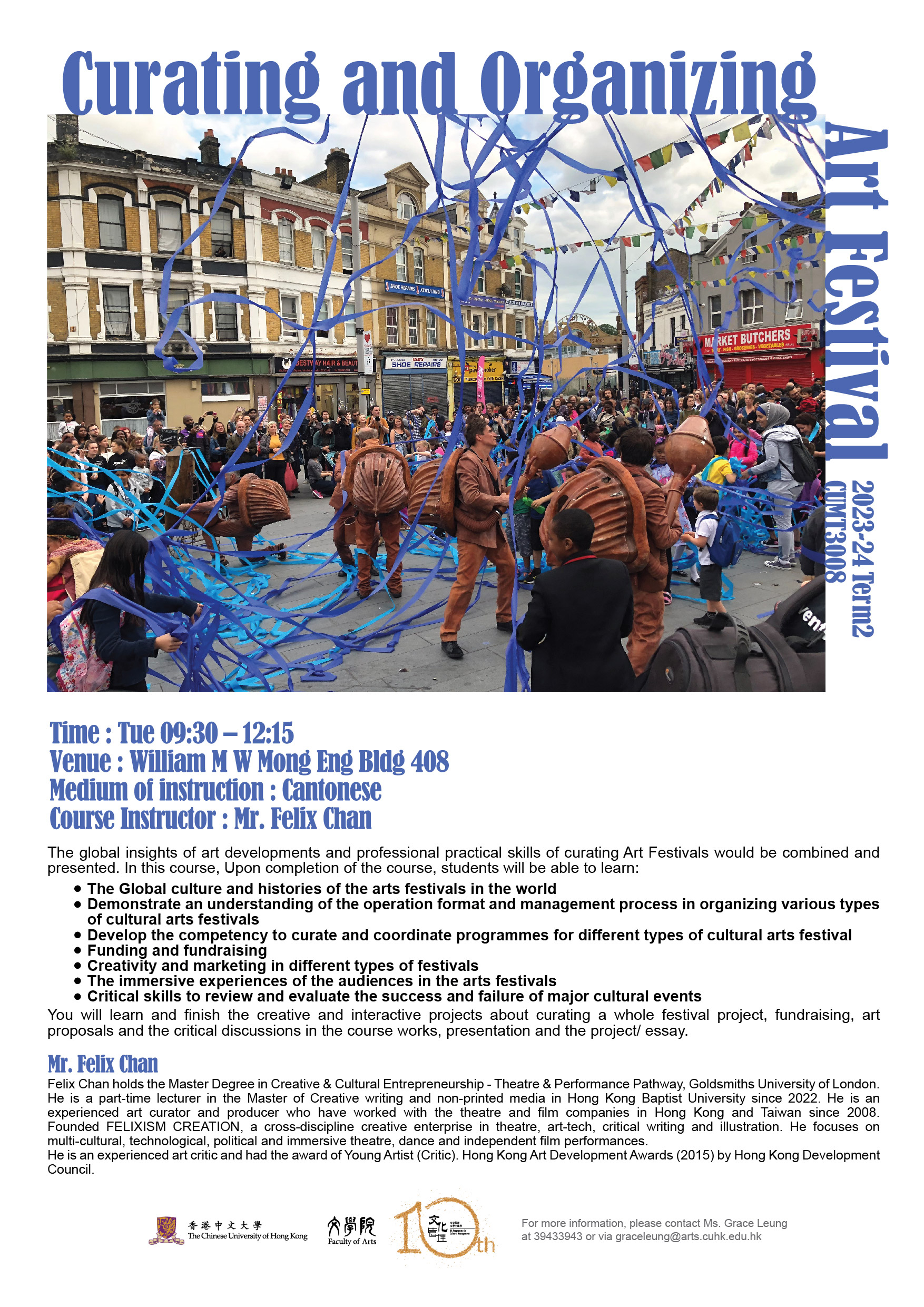 [New Course info] CUMT3008 Curating and Organizing Art Festival — 2nd term, 2023-24
The global insights of art developments and professional practical skills of curating Art Festivals would be combined and presented. In this course, Upon completion of the course, students will be able to learn:
The Global culture and histories of the arts festivals in the world
Demonstrate an understanding of the operation format and management process in organizing various types of cultural arts festivals
Develop the competency to curate and coordinate programmes for different types of cultural arts festival
Funding and fundraising
Creativity and marketing in different types of festivals
The immersive experiences of the audiences in the arts festivals
Critical skills to review and evaluate the success and failure of major cultural events
You will learn and finish the creative and interactive projects about curating a whole festival project, fundraising, art proposals and the critical discussions in the course works, presentation and the project/ essay.
Mr. Felix Chan
Felix Chan holds the Master Degree in Creative & Cultural Entrepreneurship – Theatre & Performance Pathway, Goldsmiths University of London. He is a part-time lecturer in the Master of Creative writing and non-printed media in Hong Kong Baptist University since 2022. He is an experienced art curator and producer who have worked with the theatre and film companies in Hong Kong and Taiwan since 2008. Founded FELIXISM CREATION, a cross-discipline creative enterprise in theatre, art-tech, critical writing and illustration. He focuses on multi-cultural, technological, political and immersive theatre, dance and independent film performances.
He is an experienced art critic and had the award of Young Artist (Critic). Hong Kong Art Development Awards (2015) by Hong Kong Development Council.
Time : Tue 09:30 – 12:15
Venue : William M W Mong Eng Bldg 408
Medium of instruction : Cantonese
Course Instructor : Mr. Felix Chan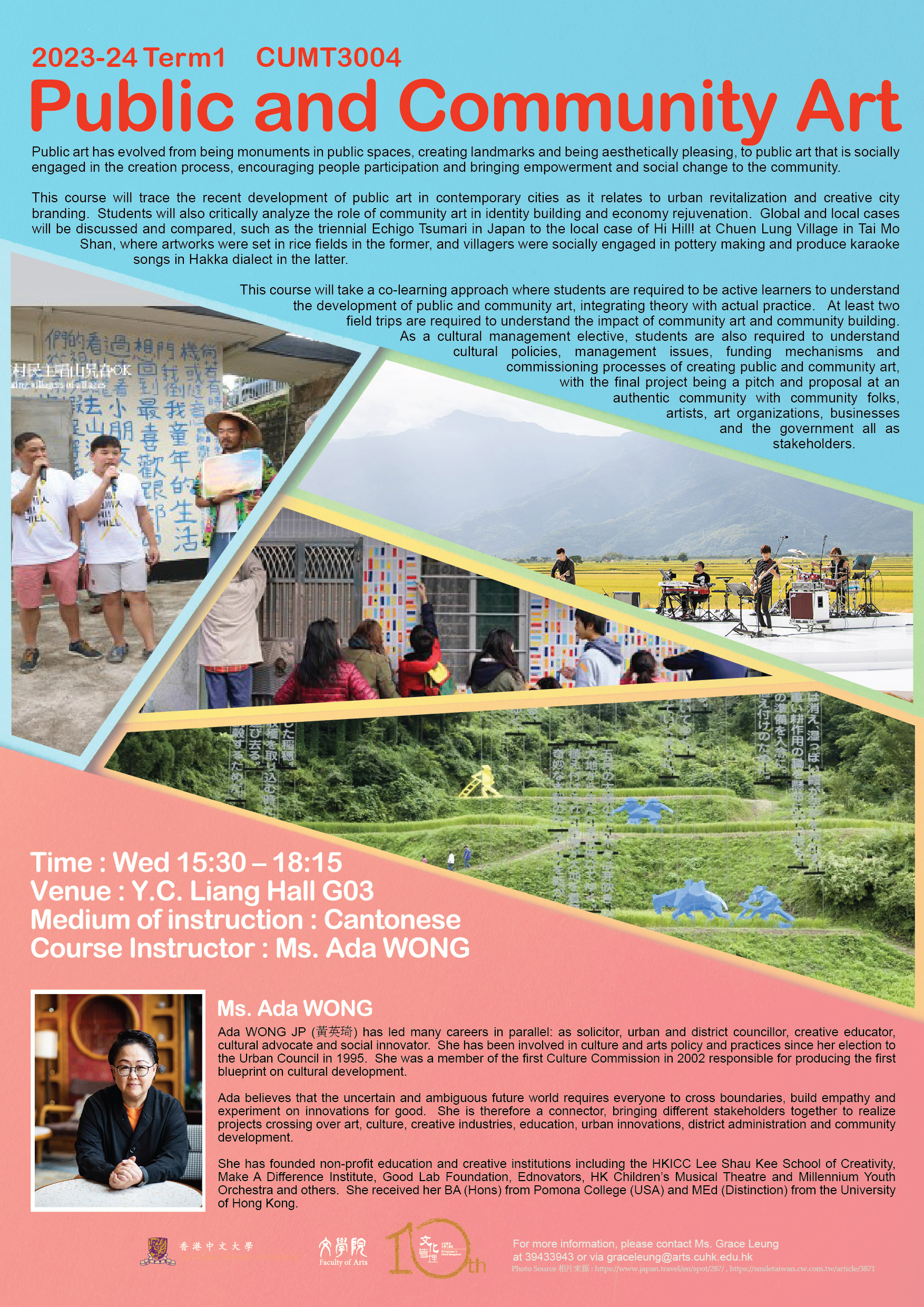 [New Course info] CUMT3004 Public and Community Art — 1st term, 2023-24
Public art has evolved from being monuments in public spaces, creating landmarks and being aesthetically pleasing, to public art that is socially engaged in the creation process, encouraging people participation and bringing empowerment and social change to the community.
This course will trace the recent development of public art in contemporary cities as it relates to urban revitalization and creative city branding.  Students will also critically analyze the role of community art in identity building and economy rejuvenation.  Global and local cases will be discussed and compared, such as the triennial Echigo Tsumari in Japan to the local case of Hi Hill! at Chuen Lung Village in Tai Mo Shan, where artworks were set in rice fields in the former, and villagers were socially engaged in pottery making to produce karaoke songs in Hakka dialect in the latter.  
This course will take a co-learning approach where students are required to be active learners to understand the development of public and community art, integrating theory with actual practice.   At least two field trips are required to understand the impact of community art and community building. As a cultural management elective, students are also required to understand cultural policies, management issues, funding mechanisms and commissioning processes of creating public and community art, with the final project being a pitch and proposal at an authentic community with community folks, artists, art organizations, businesses and the government all as stakeholders.
Ms. Ada WONG
Ada WONG JP (黃英琦) has led many careers in parallel: as solicitor, urban and district councillor, creative educator, cultural advocate and social innovator.  She has been involved in culture and arts policy and practices since her election to the Urban Council in 1995.  She was a member of the first Culture Commission in 2002 responsible for producing the first blueprint on cultural development. 
Ada believes that the uncertain and ambiguous future world requires everyone to cross boundaries, build empathy and experiment on innovations for good.  She is therefore a connector, bringing different stakeholders together to realize projects crossing over art, culture, creative industries, education, urban innovations, district administration and community development.   
She has founded non-profit education and creative institutions including the HKICC Lee Shau Kee School of Creativity, Make A Difference Institute, Good Lab Foundation, Ednovators, HK Children's Musical Theatre and Millennium Youth Orchestra and others.  She received her BA (Hons) from Pomona College (USA) and MEd (Distinction) from the University of Hong Kong.
Time : Wed 15:30 – 18:15
Venue : Y.C. Liang Hall G03
Medium of instruction : Cantonese
Course Instructor : Ms. Ada WONG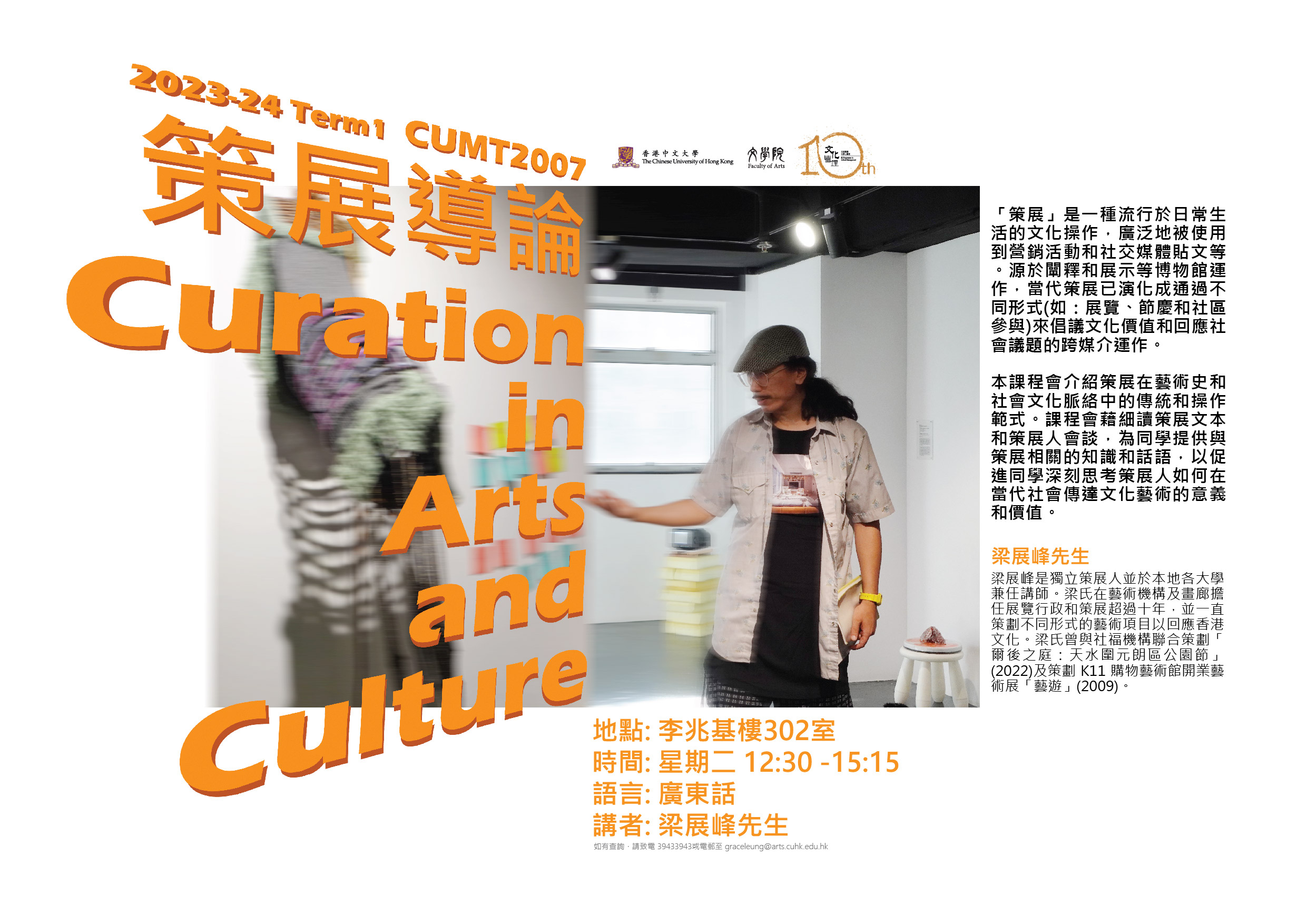 [New Course info] CUMT2007 Curation in Arts and Culture 策展導論 — 1st term, 2023-24
「策展」是一種流行於日常生活的文化操作,廣泛地被使用到營銷活動和社交媒體貼文等。源於闡釋和展示等博物館運作,當代策展已演化成通過不同形式(如:展覽、節慶和社區參與)來倡議文化價值和回應社會議題的跨媒介運作。
本課程會介紹策展在藝術史和社會文化脈絡中的傳統和操作範式。課程會藉細讀策展文本和策展人會談,為同學提供與策展相關的知識和話語,以促進同學深刻思考策展人如何在當代社會傳達文化藝術的意義和價值。
梁展峰先生
梁展峰是獨立策展人並於本地各大學兼任講師。梁氏在藝術機構及畫廊擔任展覽行政和策展超過十年,並一直策劃不同形式的藝術項目以回應香港文化。梁氏曾與社福機構聯合策劃「爾後之庭:天水圍元朗區公園節」(2022)及策劃 K11 購物藝術館開業藝術展「藝遊」(2009)。
地點: 李兆基樓302室
時間: 星期二 12:30 -15:15
語言: 廣東話
講者: 梁展峰先生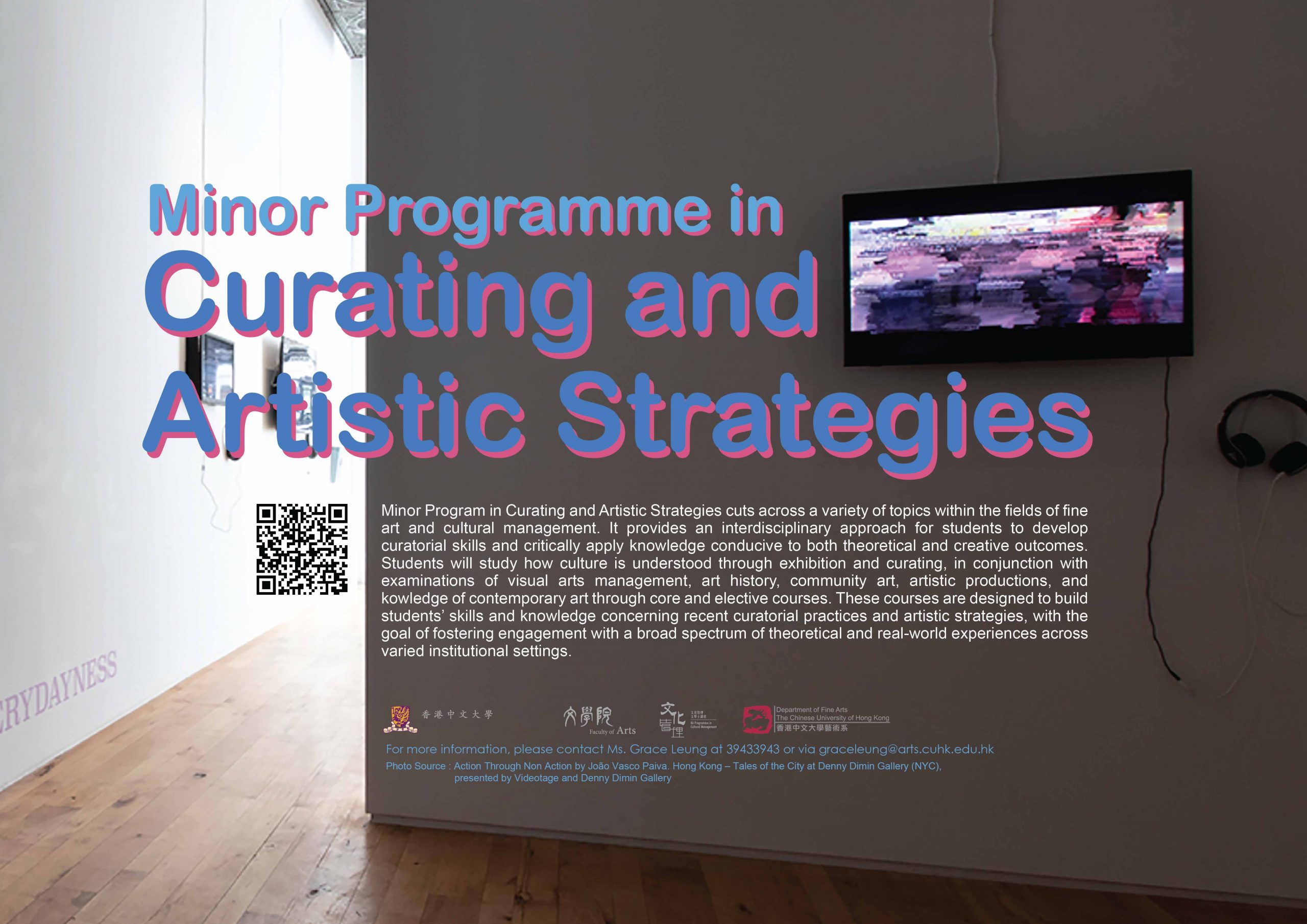 [新開辦]策展與藝術策略副修課程
We are pleased to announce that a Minor programme in Curation and Artistic Strategies would be offered starting from the academic year 2021 – 22. The programme is co-organized by the BA Programme in Cultural Management and the Department of Fine Arts. Students admitted in 2018-19 and thereafter are eligible to take this minor programme.
For more detailed information and the study scheme, you are encouraged to visit our website https://www.arts.cuhk.edu.hk/cumt/programme/minor-program/