Artist-in-Residence Scheme
Artist-in-Residence Scheme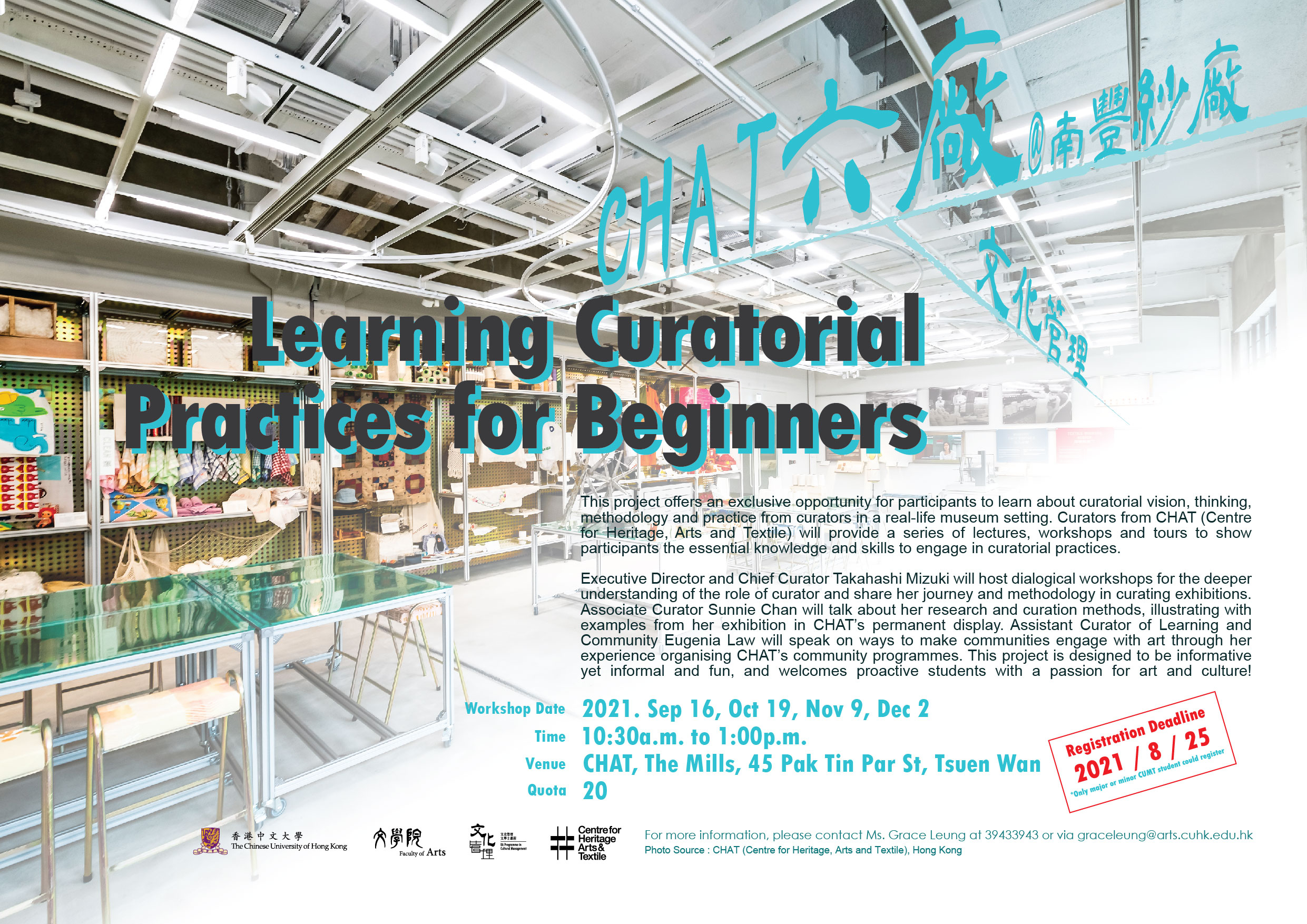 CUMT x CHAT : Learning Curatorial Practices for Beginners
In this coming Fall, the BA Programme in Cultural Management is going to organize a learning project with CHAT@Mills. This project offers an exclusive opportunity for participants to learn about curatorial vision, thinking, methodology and practice from curators in a real-life museum setting. Curators from CHAT (Centre for Heritage, Arts and Textile) will provide a series of lectures, workshops and tours to show participants the essential knowledge and skills to engage in curatorial practices. More details are as follows:
| | |
| --- | --- |
| Dates of workshops: | 16 Sep, 19 Oct, 9 Nov, 2 Dec 2021 |
| Time: | 10:30 am – 1:00 pm |
| Venue: | CHAT, The Mills, 45 Pak Tin Par Street, Tsuen Wan |
| Quota: | 20 students |
| Registration Deadline: | 25 August 2021 |
Executive Director and Chief Curator Takahashi Mizuki will host dialogical workshops for the deeper understanding of the role of curator and share her journey and methodology in curating exhibitions. Associate Curator Sunnie Chan will talk about her research and curation methods, illustrating with examples from her exhibition in CHAT's permanent display. Assistant Curator of Learning and Community Eugenia Law will speak on ways to make communities engage with art through her experience organising CHAT's community programmes. This project is designed to be informative yet informal and fun, and welcomes proactive students with a passion for art and culture!
For more details about CHAT, please visit https://www.mill6chat.org
________________________________________________________________________________
About Ms. Takahashi
Takahashi Mizuki is the current Executive Director and Chief Curator of Centre for Heritage, Arts and Textile. After serving as a founding curatorial member at Mori Art Museum in Tokyo from 1999-2003, Takahashi worked as senior curator at Contemporary Art Center, Art Tower Mito and realised numerous transdisciplinary exhibitions addressing various artistic forms including manga, film, fashion, architecture, performance and contemporary art.
For learning about about Ms. Takahashi, you are suggested to visit the website https://www.mill6chat.org/takahashi-mizuki/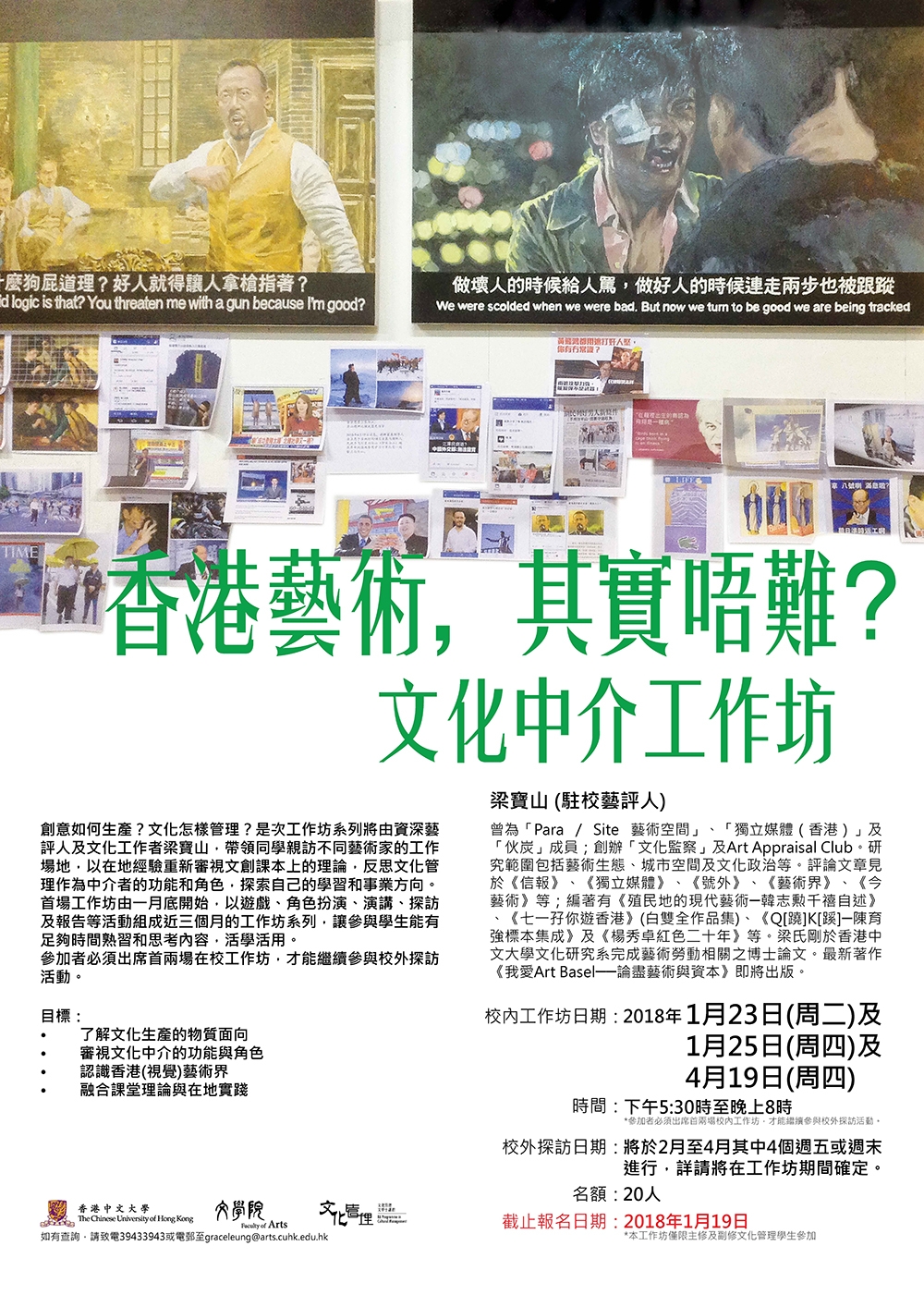 香港藝術,其實唔難?文化中介工作坊
導師:梁寶山 (駐校藝評人)
校內工作坊日期 :2018年1月23日(二)、 25日(四)  及4月19日(四)
時間:下午5:30時至晚上8時
校外探訪:將於2月至4月其中4個週五或週末進行,詳請將在工作坊期間確定。
*參加者必須出席首兩場校內工作坊,才能繼續參與校外探訪活動。
截止報名日期:2018年1月19日(五)
名額:20人 *本工作坊僅限主修及副修文化管理學生參加
Date: 23 January 2018 (Tue)

more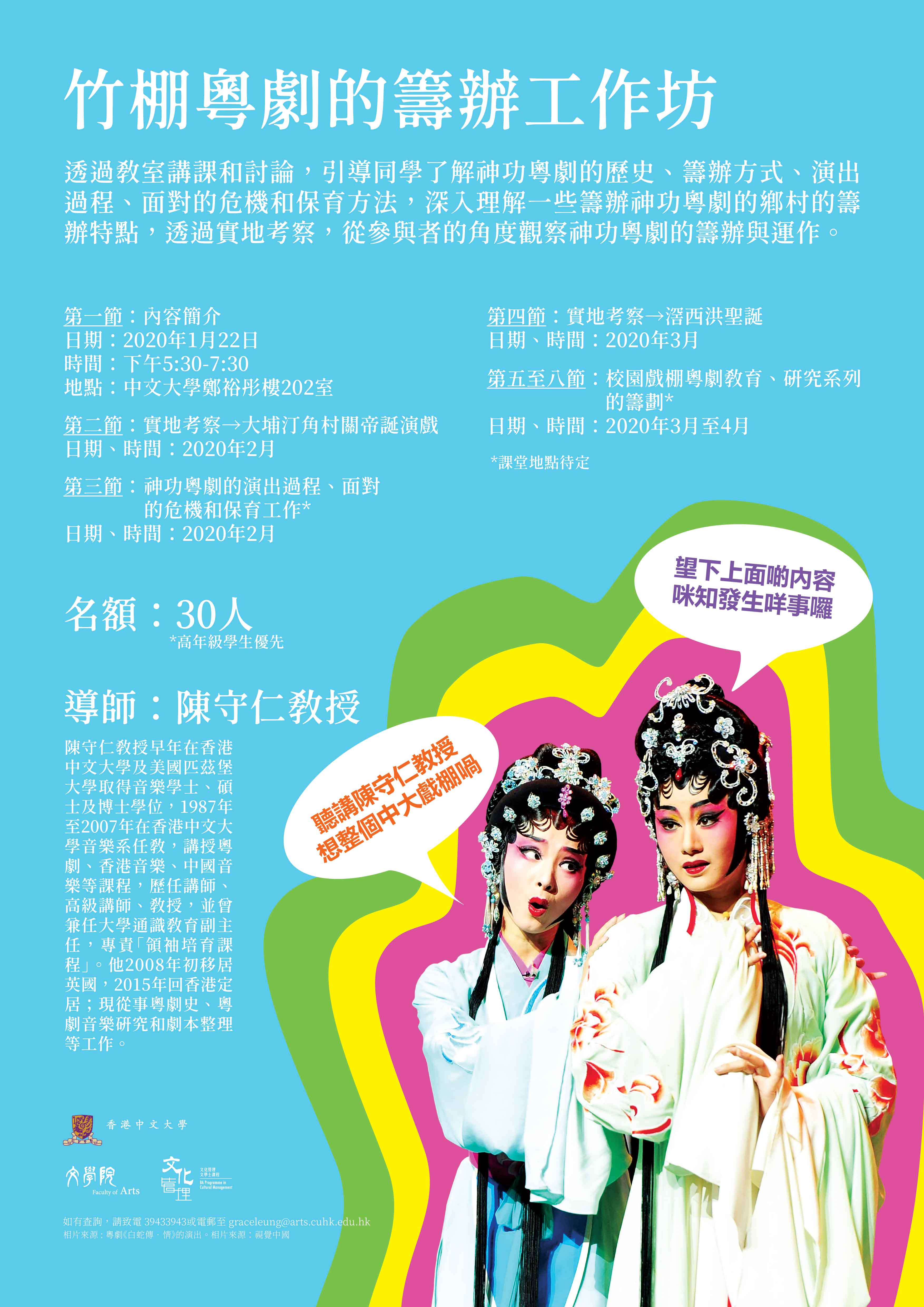 竹棚粵劇的籌辦工作坊
透過教室講課和討論,引導同學了解神功粵劇的歷史、籌辦方式、演出過程、面對的危機和保育方法,深入理解一些籌辦神功粵劇的鄉村的籌辦特點,透過實地考察,從參與者的角度觀察神功粵劇的籌辦與運作。
導師:陳守仁教授
名額:30人 
截止報名日期:2020年1月21日(二)
第一節:內容簡介
日期:2020年1月22日
時間:下午5:30-7:30
地點:中文大學鄭裕彤樓202室
第二節:實地考察→大埔汀角村關帝誕演戲
日期、時間:2020年2月
第三節:神功粵劇的演出過程、面對的危機和保育工作*
日期、時間:2020年2月
第四節:實地考察→滘西洪聖誕
日期、時間:2020年3月
第五至八節:校園戲棚粵劇教育、研究系列的籌劃*
日期、時間:2020年3月至4月
*課堂地點待定